Church isn't just a place to go, but a family to share life with. Church happens seven days a week.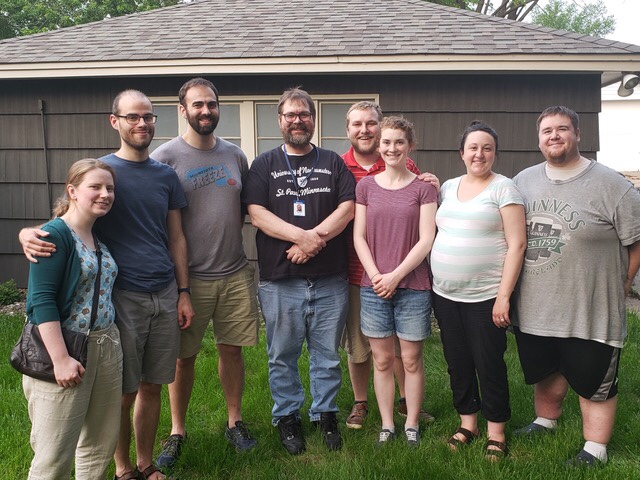 LifeGroups
In our neighborhood-hosted LifeGroups, we gather weekly to build deeper relationships, pray for one another, study God's Word, and serve together. Our smaller communities are a microcosm of the church body and help us live our our mission to celebrate the Gospel and be a blessing to the Twin Cities (and beyond). Our hope is that everyone who calls CityLife Church home would also have a LifeGroup home.
A Note on Group Organization: The groups are organized more or less by geography and are relationship based rather than content or stage-of-life based. Why? Closer proximity makes it easier to share life and be involved with one another more regularly and spontaneously. Avoiding stage-of-life grouping allows LifeGroups to reflect better the range of the whole body of Christ and enables us to benefit more from those not exactly where we are. Feel free to jump into a group that meets in a good location or good night and time for you.
Summer Schedules: LifeGroups continue to gather regularly in the summer, though many schedules fluctuate a bit. Please contact the leader for details. Regular schedules will resume after Labor Day.
KidsLife
We love children in our church family, and we have a lot of children! (Children under the age of 10 make up about a third of our congregation!) We are delighted to offer a number of ways for children to be loved and grow in the Lord, including ample opportunities for them to build relationships with others in their church family (kids and grownups alike).
Nursery
Children are always welcome in our worship service. Additionally, we have a nursery for kids birth to age 3 available from 9:05 to 11:45 every Sunday during the Adult Formation time and our worship service. In the nursery, kids are cared for by a paid nursery coordinator with help from volunteers from the church family. They get a snack, a Bible lesson and/or songs, and lots of loving attention!
KidsLife Classes
Our Sunday school classes are for kids aged pre-school through high school. These Bible classes run in blocks, usually mid-September to Christmas with a couple weeks off, then early January to May with summers off. Though under the umbrella of KidsLife, our Young Adult Classes (referred to as YAC) offer specialized programming for middle school-high school students.
Safety for our kids: CityLife takes the security of our children very seriously and we screen and train every single youth volunteer using the SafeChurch program. For details, please don't hesitate to reach out to Pastor Mitch, who oversees KidsLife.
Women's Ministry
The Women's Ministry Team seeks to: ENCOURAGE women to know and follow Jesus Christ in their daily lives. EQUIP women to grow in relationship with Christ and one another through prayer, Bible study, and discipleship. EMPOWER women to go and use their spiritual gifts to serve and reach others for Christ locally and globally.
Bible Study
Wednesdays at 10 am in MacGrove (contact: Julia) and Saturdays at 8:30 am in St. Paul (contact: paula).
Prayer
1st and 3rd Thursdays Women's Prayer at 6 a.m. in the Como neighborhood of St Paul. Email Claire for more information.
Focus Groups
These small groups of women (3–6) commit to meeting regularly (1–2x per month) for a school year with the goal of intimately connecting with group members through honest discussion, personal sharing, and prayer. Groups start again next fall.
Fall Retreat
Women gather to build community as we hear from a speaker, connect in small groups, pray and worship, enjoy meals and free time together. Date for 2019: TBD
Annual Brunch
Gather with friends, meet new people, and reflect together on the Word of God.
Women's Communications
Sign up for the Women of CityLife email group by emailing women@citylifetc.org.
Men's Ministry
The Men's Ministry Team makes and equips disciples who faithfully pursue righteousness by restoring them when they fail and cultivating meaningful relationships with men which are founded on the Gospel. Men of CityLife meet for Bible studies, roundtable discussions, social events and retreats to encourage one another in their relationships with one another and with God. Contact men@citylifetc.org to join the email group and stay in the loop.
College Ministry
We love college students, and we welcome students from many colleges near us, including: Hamline University, Macalester College, University of Minnesota, University of Northwestern—Saint Paul, Bethel University, St. Catherine University, University of St. Thomas, Concordia University, and Bethlehem College and Seminary. Additionally, we host Reformed University Fellowship at the University of Minnesota. RUF is a Gospel-centered, Bible-believing campus ministry of the PCA. RUF has Bible studies on Tuesdays and Thursday on campus or in Dinkytown. If you want more information about RUF at the "U" or if you need a ride to CityLife, email Brandon Haan.